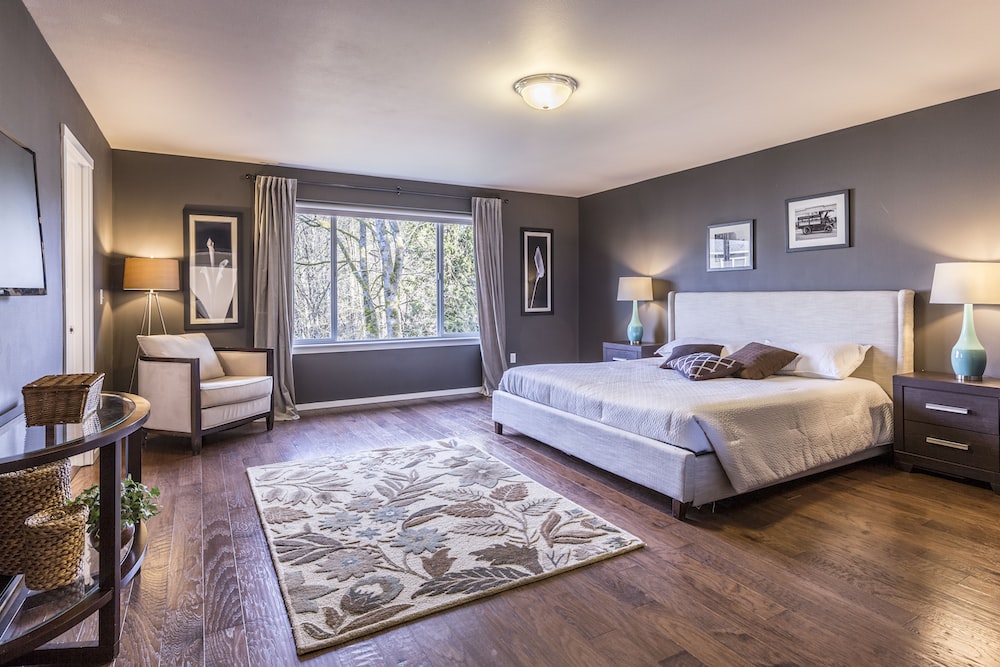 What Is Master Bedroom Guide
If you are searching master bedroom definition and search what is a master bedroom so you are the right place here:- Definition Of Master Bedroom "To make a master bedroom includes a suitable size bed, a well-furnished clothes cupboard, bedside table ( Round & Square Shape), and dressing table with a proper size mirror if the dressing table has a drawer that is wonderful to keep your daily necessary thing in it."
While building your dream home, one of the most important aspects to look after is the bedroom. After all, it defines one's personal space in the house. Likewise, every bed decor fanatic dreams of living in a master bedroom to experience exceptional comfort and lavishness. In this blog, we will shed light on "what is master bedroom" and how one can decorate it.
Effective Ways to Decorate the Master Bedroom:-
Once you have become familiar with what is master bedroom, now it is time to revamp this most sought-after personal space. When it comes to room decor, keep it simple yet significant. The following are a few ways in which you can beautify the aesthetics of the master bedroom.
To Decorate a Master bedroom Important things, which helpful to make a suitable bedroom and make your relaxing time comfortable and luxurious.
Bed Sheets
Platform Bed
Wallpapers
Seating Area
Walk-In Wardrobe
Addition of a Wall Mural
Chandelier
Hanging Bedside Lamp
Selection of bed sheets for master bedroom must be made as per the interiors of the bedroom. Most importantly, measure the bed dimensions such as length, width, and frame to get the perfect size bed sheets. Light pastel-coloured sheets will highlight the aura of your bedroom, thus complementing the interiors. Besides, select the rest of the bed linen accessories as per the wall color of your bedroom for maximum enhancements.
There are endless options when it comes to bed sizes, styles, and designs. Since you have a master bedroom, it is recommendable to get a massive bed for a comfortable residing. Platform beds comprise a low-profile construction with a sleek look.
Likewise, they have a laid-back design with minimalist aesthetics. Instead of having a bulky divan-like counterpart in the bedroom, invest in a platform bed for a classier look. Apart from it, platform beds make the bedroom look more spacious and airy to a noticeable extent. The credit for this goes to their attractive build-up.
You can imprint wallpaper over the walls of the master bedroom. There are diverse designs such as floral and stripes available for wall art. Ultimately, it will redefine the bedroom interiors by adding a touch of elegance and exquisiteness to it.
Ensure that the wall art or the wallpaper goes along with the wall color and another room decor. Avoid dull and dark colors; instead, opt for eye-soothing pastels and subtly shaded colors.
Though there is a separate living area in every home, you can make small seating area in your master bedroom too. For this, you will require a center table along with a small sofa. Aside from it, you can opt for a wing chair to give a touch of royalty to your bedroom. Alternatively, one can also place an upholstered bench for ultra-chic room decor.
Suppose you want to live a life no less than a celebrity, set up a walk-in wardrobe in the master bedroom. By doing so, you will be able to keep all your clothes, shoes, and other accessories in an organized and visible manner. To put it simply, you can walk into to closet and browse the stuff with ease.
Whenever someone pops up what is master bedroom, all that comes to our mind is the luxurious room decor with an expansive ambiance. Yet,the important thing is to decorate that space with trendy accessories, such as a wall mural. Basically, it is a piece of art painted or directly applied on a ceiling, wall, and other surfaces.
You can add a broad wall mural above the bed. Alternatively, one can also get the mural imprinted on any bare wall in the master bedroom to revamp the look. Furthermore, you can choose between permanent and removable murals. However, the latter one is always the best and affordable option.
Most people opt for chandeliers either in the living or dining area only. Nevertheless, it can be an excellent addition to your master bedroom too. There are countless varieties of elegant yet straightforward chandeliers that would light up your personal space. Besides, it will give your bedroom an ambiance similar to a five-star hotel.
Hanging Bedside Lamp
Good lighting is one of the most primary aspects of a master bedroom. However, it is always better to pick something to enhance the lighting in your room. For this, two hanging bedside lamps would work well. Such lamps, being a super-chic decor accessory, never fail to make a style statement.
Another impressive thing to consider about hanging bedside lamps is that they do not require table lamps. More to say, they do not divert any graphic artwork placed above the bed.
Master Bedroom: The Magnum-Opus Bedding:-
A master bedroom refers to the largest principal room in an apartment or an independent house. Typically, the family member that heads the household resides in the master bedroom. Coming onto the master bedroom size in feet, it should be 15 feet approximately on each side. Further, the size of a general master bedroom should comprise at least 200-250 square feet of living space.
However, the larger versions of the master bedroom might be 16-20 feet on each side. Ideally, the complete area of the same should be around 300-350 square feet. On the other hand, the choice between a general and a bigger master bedroom depends upon the preference of the user and storage requirements.
If you wish to store extra stuff apart from furniture, a more oversized master bedroom will suffice the requirements. On the other hand, the layout of the general master bedroom is good for those looking forward to keeping the basic bedroom furniture only.
Wrap Up
You can easily appreciate what is master bedroom by assessing the information mentioned above. Apart from it, this blog also emphasizes how to decorate master bedroom. There is no need to spend a hefty sum of money on the room decor. You can opt for several pocket-friendly ways that are effective enough to give your bedroom a gorgeously luxurious feel. Wallpapers on the ceiling and the rest of the bedroom walls and some fashionable accessories would do the job. Ultimately, adoring the master bedroom with the finest bed linen will bring you laurels of appreciation for creativity.