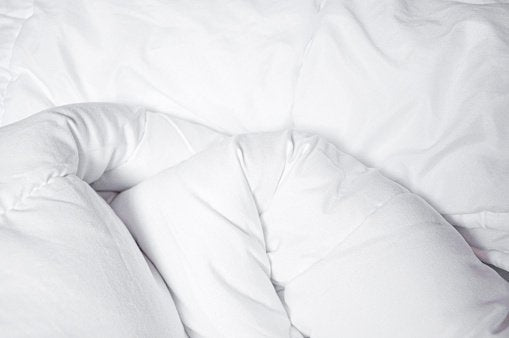 What is a Quilt?
Get know what is a quilt - "A quilt is a type of bedding topper that features a distinctive manufacturing style, blending arty endeavours to form a decorative piece of thick fabric. Quilt comes in three layers including the top, inner batted, and bottom layers."
The topmost layer of a quilt is made from various pieces of fabric that are sewn together to form multipart outlines. Its middle layer, often called batting, wadding, or filling, features a thin fluffy fabric such as wool, cotton, down, or polyester. This layer is responsible for the warming effect of a quilt. The bottom or back layer resembles the top layer.
All the 3 layers discussed above are sewed together in a process known as quilting, making them one piece of warm fabric. The inner padding is held in place with the outlines of stitching made in various artistic patterns. Compared to blankets, quilts are heavier and thicker to ensure utmost warmth and comfort during cold winter nights.
Tips For Buying A Quilt:-
The market is overwhelming with different types of quilts. This can affect your buying decision, especially when shopping online. Quilts have various applications. That's why people searching what is quilt. you need to take into the size, material type, and the purpose of the quilts to ensure you are getting the correct item. Below are some factors you need to consider when buying a quilt.
Size For Quilt:-
On the market, you will find various sizes of quilts for the smallest beds and the largest sizes. There are also quilts for king and queen-sized beds to meet different consumer needs. To get the right size of a quilt for your needs, make sure you take the measurements of your beds into account.
Once you determine the size, consider the price because these quilts tend to be costlier with size. Regardless, make sure you pick the size that corresponds to the dimensions of your bed to guarantee comfort and warmth. Also, ensure the size doesn't compromise the room decor.
Material For Quilt:-
Quilts, like most all the other bedspreads and bedding, feature various materials in their construction. Examples include cotton blends, pure cotton, silk, flannel, linen, and synthetic materials. The materials you choose play a huge role in determining the comfort you get. If you are looking for quilts to use in winter, go for those made with cotton, cotton blends, flannel, synthetic, and silk fabrics. This is because the materials provide great insulation for utmost warmth. What's more, the materials are soft-to-touch, ensuring comfort.
Also, while making quilts, you should avoid stretchy fabrics as they are difficult to put together neatly due to their flexible design. Corduroy, denim, velvet, wool, and leather are other tightly woven materials used in constructing a quilt. These types of fabrics are known for their excellent strength and durability. What's more, they provide the much-needed comfort and style altogether.
Purpose For Quilt:-
When it comes to the bedroom, there are a variety of reasons as to why one gets their beddings. For starters, quilts provide warmth to beat the cold nights in winter. Here, a quilt is combined with sheets and other toppers to ensure you are perfectly snugged for better sleep. Quilts for warmth feature thicker fabrics that insulate heat when it's cold.
Quilts are not only used during cold seasons. Their application ranges from cold to warm seasons. During summer nights, go for quilts made of lighter materials that exhibit excellent breath-ability to keep your body cool and comfortable.
Quilts are also used for decorative purposes in the bedroom. They display a variety of artistic colors and patterns that make the space look vibrant and beautiful. Therefore, if you are looking to decorate your room, go for colors and patterns that accentuate your spirits while staying beautiful at a glance.
Having a comfortable resting environment is essential for every household. And in this case, our resting space is mostly the bedroom. During colder seasons, simple sheets will not suffice. You will require a lot more than a pair of sheets to provide the much-needed warmth and comfort. For this reason, many people turn to other alternatives including blankets, duvets, and quilts.
Duvets and blankets are familiar terms for bedding toppers. However, confusion comes about when the quilt is introduced. Many people seem to mistake it for a duvet cover or other bedspreads.
The good news is, here in this article, we are discussing what a quilt is and how it differs from the other bedspreads. What's more, we tell you the types available to make your buying decision easy.
Conclusion
For years, quilts have been used as a symbol of comfort and decor in the bedroom. Many people don't want to be left behind from using such artistic beauties. As a result, they have turned to quilts for beautification and warmth provision to ensure their bedroom is a comfortable environment to retire to at the end of the day.